Project: The Broadview Hotel, Toronto Client: Streetcar Developments
In our Creative Cultures series, writer Helen Bullingham spends a day inside companies to learn how hiring, onboarding, and company culture play a role in employee happiness. From start-ups to design firms and all in-between, we're pulling back the curtain on what it's like to work in inventive and productive environments. Today, Helen is at Norm Li in Toronto.
Located at Dundas and University in downtown Toronto is the visualization studio Norm Li, a rare and brilliant gem that creates Renderings, Animation and Interactive experiences for the architectural, real estate development and design industries. The studio helps clients to visualize spaces and places prior to being built or occupied. The need varies; in some instances, clients know what they want and need Norm Li's team to bring it to life. In other instances, they seek out the design studio's help in figuring out what that space should look like. What Norm Li delivers is a visual narrative of the space that's so real, you can feel yourself drawn to it. And in the case of their VR applications like the image above, you can actually feel yourself in the space too.

What makes these brilliant visualizations possible is the diversity of the team of Artists at Norm Li. On a daily basis, this team, consisting of architects, graphic designers, 3D modelers, motion graphic artists, photographers, web developers and post production staff work together to build real life narratives. The studio also incorporates trend forecasting for the neighbourhoods of the spaces they are working on and then consider what cultural experiences are part of that community.
The breadth and experience of talent creates an exceptional product; in short, it's an artist's dream to be co-creating with this rare mix of talent. And judging by the company they keep, clients think so too; Norm Li has completed many projects for an A-list clientele.
Norm Li inspires a spark of greatness — in the work that they do and in the workplace culture they have created. As a result, clients receive a product that enables them to make an emotional connection with their audience and, thereby, succeed, and staff are motivated to achieve, excel and really grow in their profession.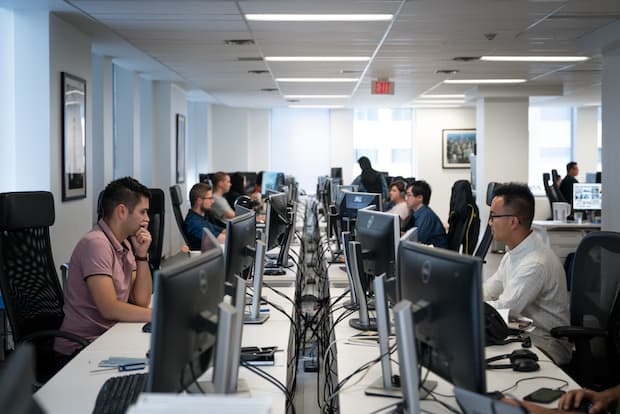 Photo: Norm Li Office. Credit: Natalia Osmolovskaya
Getting Hired at Norm Li
Norm Li himself was the first employee at the self-named studio. Norm started the studio in his mother's basement. He had quit a studio co-op as part of his study at the University of Waterloo School of Architecture. He knew the kind of studio he wanted to run and he wasn't going to wait to graduation to do it. "When I started, there were only three studios in Toronto who did what we were doing." Norm's entrepreneurial spirit is in the DNA of Norm Li.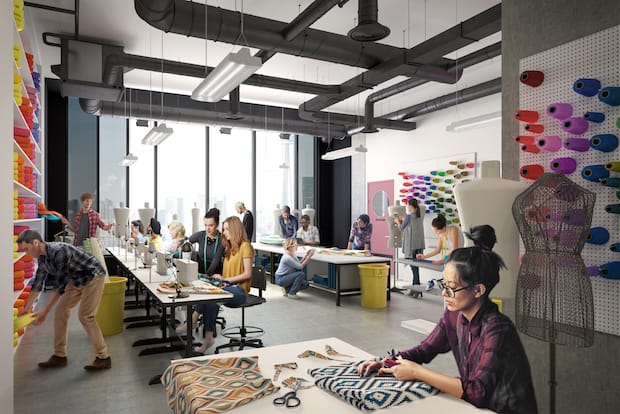 Karen Choi is Director of Operations and HR. She has been with Norm Li since 2011. She met Norm when a group of friends were having a picnic. Norm was at the picnic too. She suggested to Norm that he should hire her and that she could help build the company and soon after, she went to work there. Choi was drawn to the company for its entrepreneurial potential; "I liked Norm's passion for starting something from nothing."
Choi says it's very important for new recruits to have a working knowledge of 3ds Max (3D Modelling, Animation and Rendering software) and VRay in Photoshop. Says Choi, "In our experience, students coming out of Architecture school haven't learned these applications because it wasn't necessarily part of their curriculum. So if you're a candidate with these skills, chances are, you've learned these applications on your own and that demonstrates self-motivation and passion. And we look for passion in our hires."
Norm has also given talks at Ryerson, U of T and OCAD. The company has hired co-op students who eventually came back to work full time.
Katherine Borsato, who is currently a Project Manager at Norm Li, and was a direct hire through a Freshgigs.ca post, did her homework. She knew of Norm Li already through her previous position. She liked the energy on the company's Instagram page — which has over 4500 followers and features new projects and company musings — and the feel of the office during her interviews. "My interview felt more like a conversation. I knew right away it was the right fit."
Natalia Osmolovskaya, who leads Post Production and Artist Entourage, had an education in art history, but was working at a bank as a teller when she applied to a job posting on the Indeed recruiting site. Natalia was able to parlay her personal passion for photo manipulation and was able to demonstrate this on her application by showing herself in eight images, which ultimately had her leading to Norm Li's front door.
We look for people who are intuitive. There's no wiki to tell you how to do your job. We give everyone a high degree of autonomy.
Every potential artist who gets an interview first completes a 3 hour test. During the test, the candidate has the opportunity to demonstrate their skills and creativity on a designated assignment. If the test goes well, candidates are called back for an interview with staff and ultimately, if the fit is there, they get to meet Norm.
Says Norm, "We look for people who are intuitive. There's no wiki to tell you how to do your job. We give everyone a high degree of autonomy."
Staff at Norm Li come from all walks and backgrounds. Says Norm, "You need to be really good at what you do. You need design sensibility and you need to be able to interpret drawings. You also need good taste. Your colleagues will help you. We hire staff with a self-employed mentality. Hard work pays off here."
Onboarding
New staff at Norm Li are provided a handbook before their first day at work that they are expected to review. The handbook — which includes the Company Charter, a 3-year Painted Picture (plan of where Norm sees the company going in the next three years), and Code of Ethics — explains what they will be learning each week for the first three weeks on the job.
To bring out the best in each team member and the team as a whole, all staff are welcome and encouraged to join the daily Art Review each morning at 10am. The Art Review is just that – artists share the images they have done over the past day with the entire team for the purpose of getting and giving feedback before client delivery.
As Katherine, Project Manager, says, "I might not be one of the artists myself, but I might be the target audience of the project they are working on so I can provide my immediate reaction to what I am seeing and whether I like it or something doesn't feel right."
Terry Sin is one of the Studio Directors who has a Masters in Architecture from the University of Waterloo. Terry was hired as a Junior Illustrator a few years ago. Because of his training, he understood drawings, the stage that they were at and things in 3D space. However, he wasn't trained in the software that Norm Li uses so Terry says, "It was challenging at the beginning. It took a full day to draw one chair. But, I was working on a bunch of buildings all at once, which was a great experience." As Terry tells it, he sat among the other Artists and worked his way through it. "And the team helps you."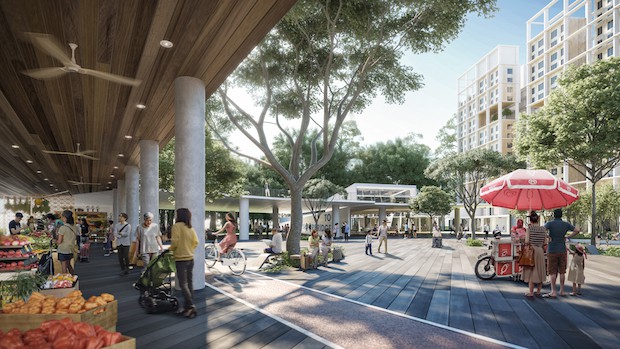 Kimberly Valmeo, Director of Marketing reflects, "While the company really supported me, I just had to jump in there. I had to learn the projects we were working on, I had to figure out the story we needed to tell and I had a lot of one on ones with Norm, who held the vision for the company. It was a very grassroots onboarding."
Life at Norm Li
Staff share a sense of pride as they discuss the Company Charter, a manifesto on how the company gets to great work and a thriving workplace culture. One line of the Charter catches my attention: Integrity – We do right by our team, our clients and ourselves – in that order.
Katherine, Project Manager says, "Everyone here is really, really close. We share a similar outlook. We love being a part of this. Norm Li is an inspiring place to be. We each set our own goals. We take the company objectives, think about our interests and come up with ideas for where we think the company can go. The company promotes staff education and development."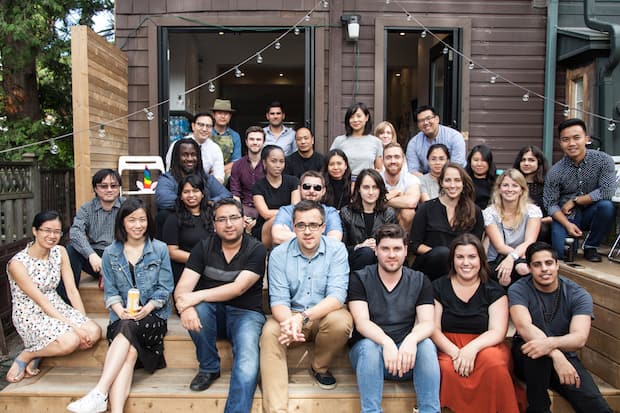 Photo: 2017 Summer BBQ Credit: Dimana Kolarava
"Our motto here at Norm Li is #alwaysbetter. Our charter is a tool that we use for problem solving." says Terry, who went from Junior Artist to Studio Director in 4 years.
A number of staff have been at the company for four to five years. Each of the people I meet with tell me the story of their own progress at the company. Natalia started as a Graphic Artist and now leads the team managing Post Production and Photography. Recently, she completed Heights training so she can now take pictures from the top of buildings.
Integrity – We do right by our team, our clients and ourselves – in that order.
Says Terry, "I was interested in sales and being client facing, which is what I am doing now in my role as Studio Director". Terry says there are two things especially that make Norm Li a great place to work, "The independence and autonomy that we all have and the transparency within the office. There are no hidden barriers. If you work hard and ask questions, you can grow."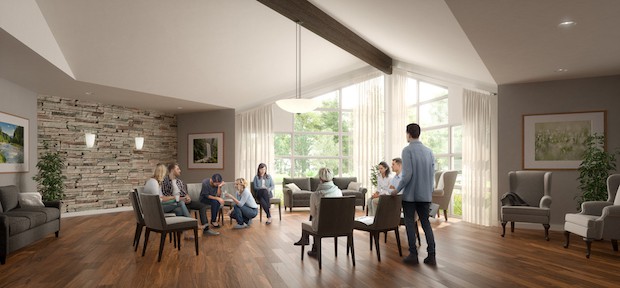 Kimberly, Director of Marketing, joined Norm Li in June, 2016. "What I love about this place is that you're able to follow your own path as long as you work hard and stay engaged. I've always had a passion for design and interactive. Being a part of the creative development process has made me a better marketer because it allows me to talk about our product in a holistic way."
Kimberly enthusiastically shares the VR application that Norm Li built for Streetcar Developments which is an immersive experience for the now built The Broadview Hotel, located at 106 Broadview Avenue in Toronto. At the time, the hotel was looking to see if they could generate a revenue stream early on by pre-booking events and weddings prior to launch. The renderings and VR experience that Norm Li developed were so life like that the hotel was able to secure bookings ahead of the building being finished.
Even through the busiest of times, #normandthegang still finds time for passion projects. As an example, when staff heard that rapper Drake was purchasing a home in the Bridle Path, they decided to have some fun and visualize what his home could look like. You can see the images here, as the Toronto Star published it.

Norm takes staff to lunch on a weekly basis. Says Norm, "We are always trying to be a better version of ourselves. We don't see the exodus that we normally see in the industry." When asked what he is most proud of, Norm says "In the last couple of years, we changed the culture. We have shown that a strong workplace culture can be a driver of success. We have a greater diversity of voices in the conversation."
For Career inquiries at Norm Li, contact: Karen Choi, Director of Operations (karen@normli.ca / careers@normli.ca) (https://www.normli.ca/careers/)