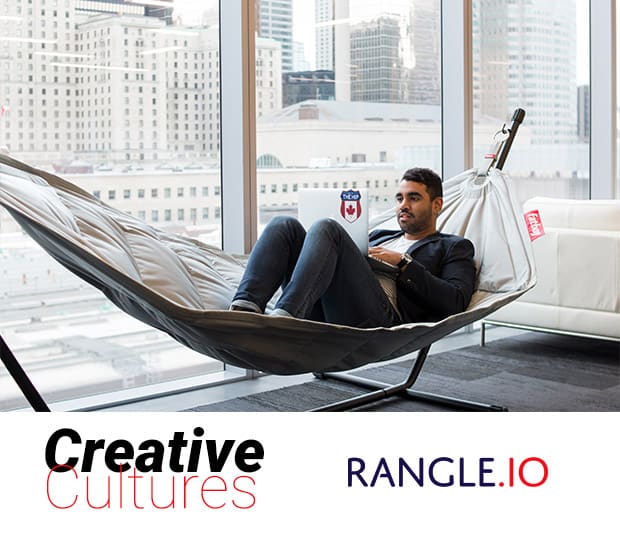 In our Creative Cultures series, writer Isabel Chambers spends a day inside companies to learn how hiring, onboarding, and company culture play a role in employee happiness. From start-ups to design firms and all in-between, we're pulling back the curtain on what it's like to work in inventive and productive environments. Today, Isabel is at Rangle.io in Toronto.
Put simply, Rangle.io makes apps, but in reality, they're a leading force in Canada's tech industry for a lot more than that. Leaders of diversity and advocates for education, Rangle is building a new future for Canadian workplaces where inclusion and learning reign. When it comes to Rangle's employees, they're a passionate and educated bunch, and not just about technology. They're well-versed in global issues and are together taking steps to break through barriers one hire at a time.
A Leader In Workplace Diversity
As Rangle grows, so does its company mission, but when it comes to diversity, their stance never wavers. Rangle was built around diversity and inclusion and was runner-up for Best Tech Workplace for Diversity Award at this year's Timmy Awards. Rangle welcomes people from all walks of life, tossing away pre-set standards typical companies require for hire. "We have people working here who never graduated high school," Abdella Ali, the first ever Software Developer at Rangle, tells me.
Education and mentorship are built into the foundation of Rangle's company culture, allowing them to hire on potential rather than skill alone. "We are able to coach and mentor them, and in a year they will have levelled up dramatically," Angela Hountalas, VP of People at Rangle explains. Of course, diversity is important for facilitating collaboration and cooperation in any environment, but it's also good for business. Rangle knows this first hand and credits it as one of the reasons they've grown to become one of Canada's leading tech companies.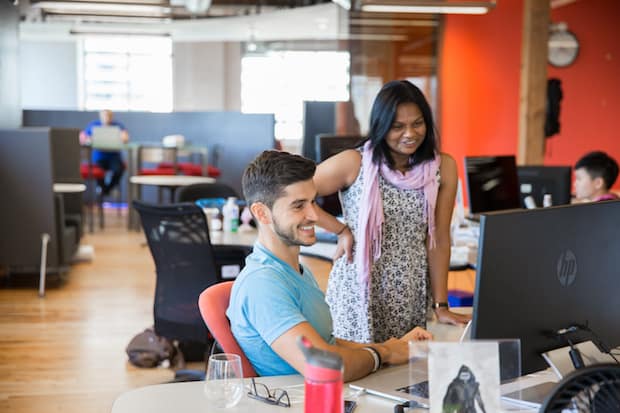 Bridge
Bridge is an eleven-week program for women looking to break into the tech industry and learn more about software development. Run by Rangle employees on a volunteer basis, the program is completely free, and as Abdella recalls, it came about in an organic way. "One of our Scrum Masters, Emily Porta, broached the topic of teaching at one of our meet ups and I raised my hand and volunteered."
Bridge also acts as a way for Rangle to acquire female talent without poaching from other companies because, as Marlies Farrill, Talent Specialist at Rangle, explains, "that doesn't solve the real issue." And it's proven to be successful. Around 30 percent of the last cohort was hired on. "The women we've hired through Bridge so far are bringing amazing skills to the table," Marlies elaborates, "some of these women are newer to development but they bring other important skills to the company."
In this industry we put a focus on hiring for skills but the shift is focusing on potential and training for skills.
Rangle believes in hiring for culture add over culture fit, and Bridge enables just that. "Often times in this industry we put a focus on hiring for skills but the shift is focusing on potential and training for skills," Angela explains, "and that's what Bridge does."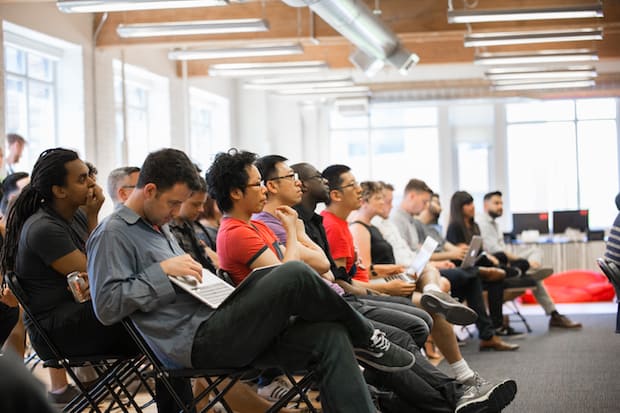 Mentorship
Rangle's Mentorship program allows for employees to continuously blossom and expand their skill set, both soft and hard. Employees are given a Buddy, Coach, and Mentor, all of whom, are other Rangle employees and serve different growth needs. "Your buddy will take you out for lunch or show you around the office," Abdella tells me. Coaches are for overall guidance, fostering growth both at work and personally, but they never give direct advice. "We want employees to come to their own conclusion and empower them to make those tough decisions," Marlies tells me.
Mentors are given to employees as inspiration. Mentors provide hands-on guidance and direction to extract and maximize their potential. Mentors are chosen carefully and provide more tactical, hard skill-based coaching. Of course, being a coach or mentor isn't mandatory, like many programs in place at Rangle, it's run on volunteer basis and requires training.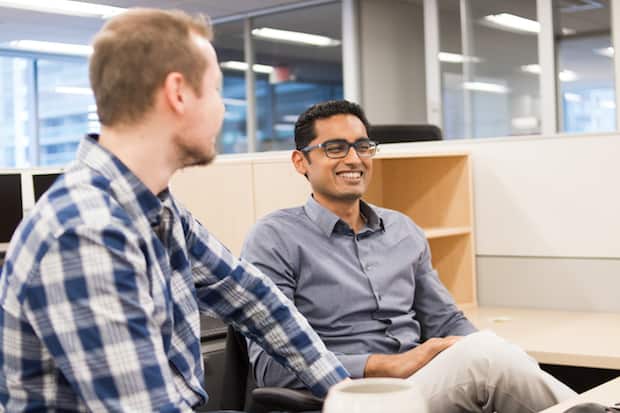 Guilds
Rangle is all about pushing things forward, and their Guild program is the heart of their momentum. Guilds are made up of groups of like-minded employees, who meet weekly or bi-weekly to innovate around a common area of interest. Currently, Rangle has seven guilds — Process Guild, Design Guild, Diversity Guild, Angular Guild, Coaching Guild, IoT, AI, and Quality Guild — although, there's always more to come.
Guilds allow for internal discussion, peer-based learning and continuous innovation on how to make Rangle a better, more inclusive place to work and a positive example to other tech companies — because at the end of the day, that's Rangle's number one mission and so far, they're doing a fantastic job.
It's hard to believe that less than five years ago Rangle was made up of less than five people. Today, Rangle has over 160 employees. After spending an afternoon speaking to leading members of their team, one thing is for certain — they're not slowing down.