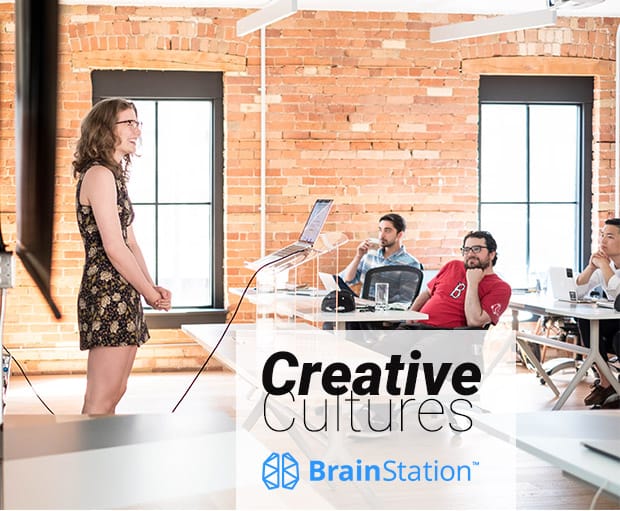 In our Creative Cultures series, we spend time inside companies to learn how hiring, onboarding, and company culture play a role in employee happiness. From start-ups to design firms and all in-between, we're pulling back the curtain on what it's like to work in inventive and productive environments. Today, writer Helen Bullingham is at BrainStation.
BrainStation is already a fixture in the Digital Education scene in Toronto. The company, which began in 2012, provides digital education through both full and part-time courses, workshops, conferences, industry talks and corporate training. Courses and workshops cover the full Digital Product Lifecycle and include subjects like Introductory Digital Marketing, iOS development, User Interface Design, SEO, Google Adwords and Analytics and How to Market on Shopify. You can also participate in activities like Fireside Chats with the Head of Marketing at Google Canada. In 2016, 22,000 individuals soaked up some form of digital learning put on by BrainStation. The majority of this learning took place in Toronto. BrainStation also offers digital education on their Vancouver campus, New York operation, and in San José, Costa Rica through their Latin American division. 
Student's goals are personal: Some want to start working towards a shift in their future careers, others want to up their game in digital skills, and some are sent by their employers. A common theme in my discussions with staff is that University Degrees don't provide hands-on, marketable skills. Getting a digital education through BrainStation can change that without another four years of study.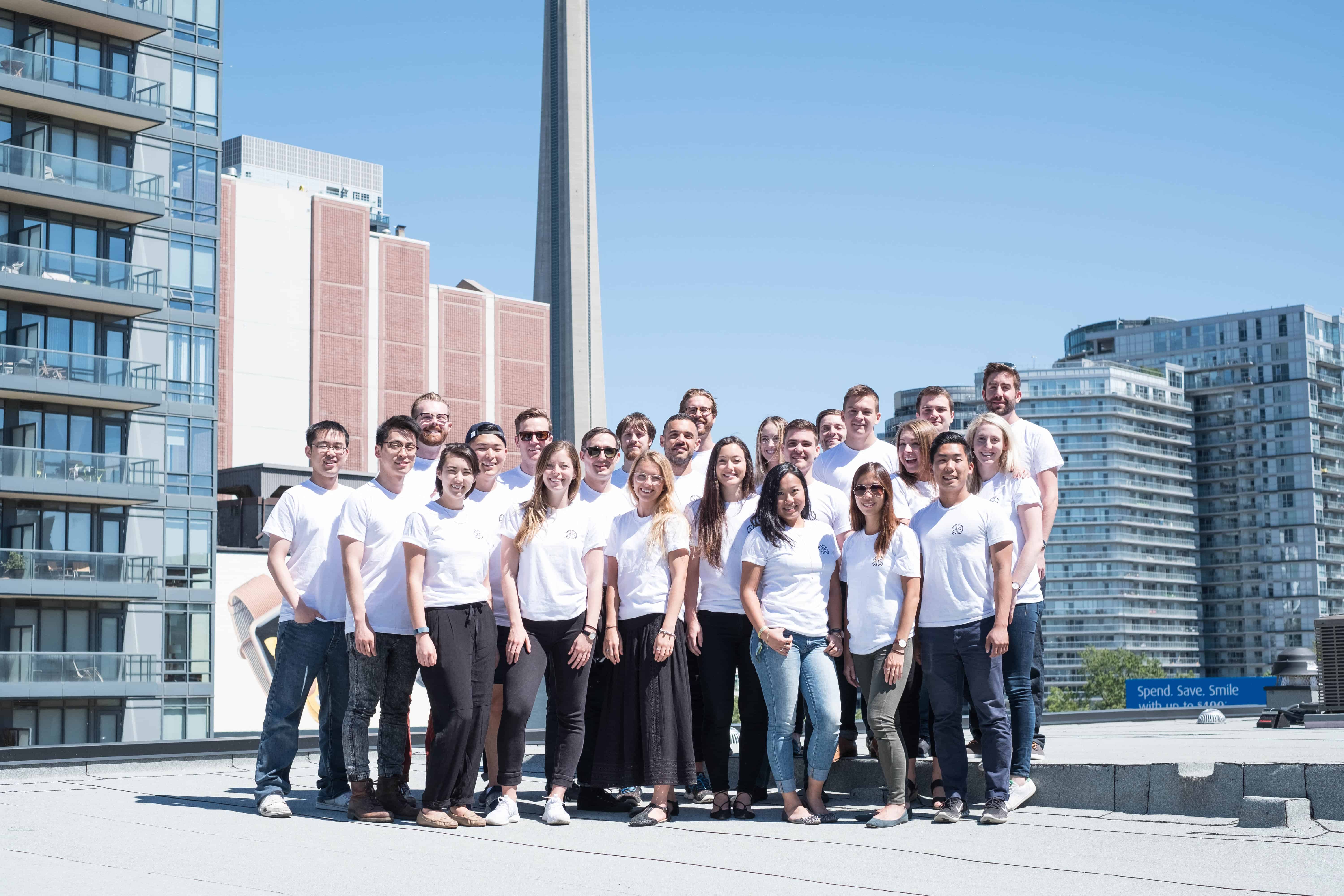 Image: The BrainStation team
BrainStation employs around 28 staff at its Toronto location and has 150 Educators on its payroll (Toronto/Vancouver), offering full-time, part-time, workshops, conferences and corporate training. These Educators aren't your ordinary teacher types; They are tech leaders in Toronto's digital economy, driven by a passion to share their knowledge and grow Toronto's digital community. 
In 2012, Jason Field and his two friends & fellow University of Western alum—Duncan McCall and Apoorv Gupta—decided they wanted to create a business. They didn't have a digital background but could see that that was where the future was. They didn't want to spend another four years at school getting a digital education and weren't interested in getting hired for digital roles. What they wanted was to run a business that involved digital. They reasoned that if they wanted to learn about digital, so might a lot of others.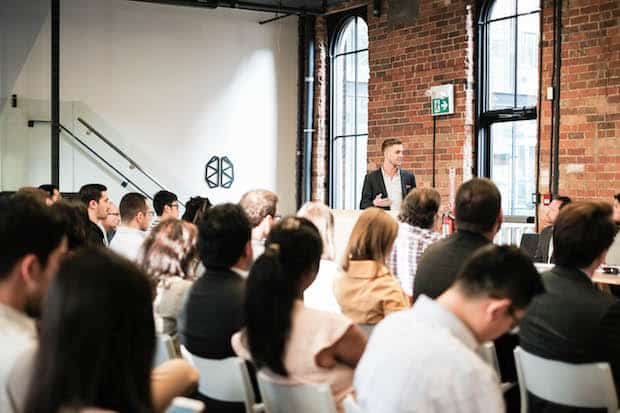 Image: BrainStation workshop in Session, Toronto Campus
They started by offering free digital marketing workshops in hubs around Toronto, leveraging existing community networks, co-learning spaces and a Facebook page to test the interest. Says Jason, "For our first workshop, we projected the material on a blank wall." From the get go, there was demand for what they offered. After a couple of years, they got their big break. The Konrad Group, a full-service technology consultancy, had come across professionals that didn't have a digital background but who seemed to have somehow acquired practical digital knowledge. Upon further inquiry, they learned that the knowledge was coming from the instruction offered through BrainStation!
In September 2014, The Konrad Group acquired BrainStation and paved the way for the digital education start-up to finally build a hub of its own.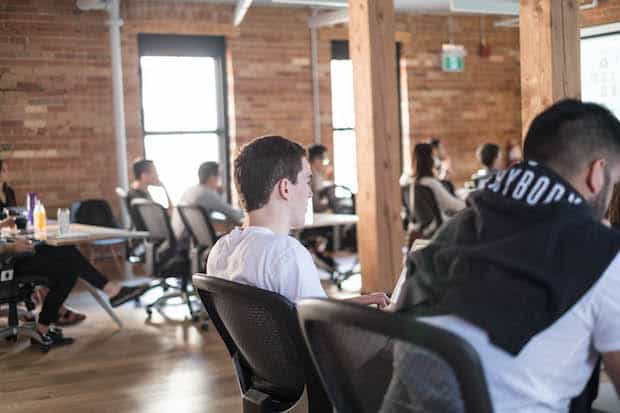 Image:  BrainStation class in session, Toronto Campus.
And build a hub they did! The BrainStation Toronto campus, located at 460 King Street West (King & Spadina), is an expansive contemporary space, complete with exposed brick and beams, wooden floors and cozy seating throughout each level. In the heart of Toronto's tech scene, BrainStation's campus building was originally built in the late 1800's. Torontonians may remember the building as the former Global Village Backpackers hostel. BrainStation has converted the building into a four story hub dedicated to co-creation and digital literacy. This hub is where the learning happens.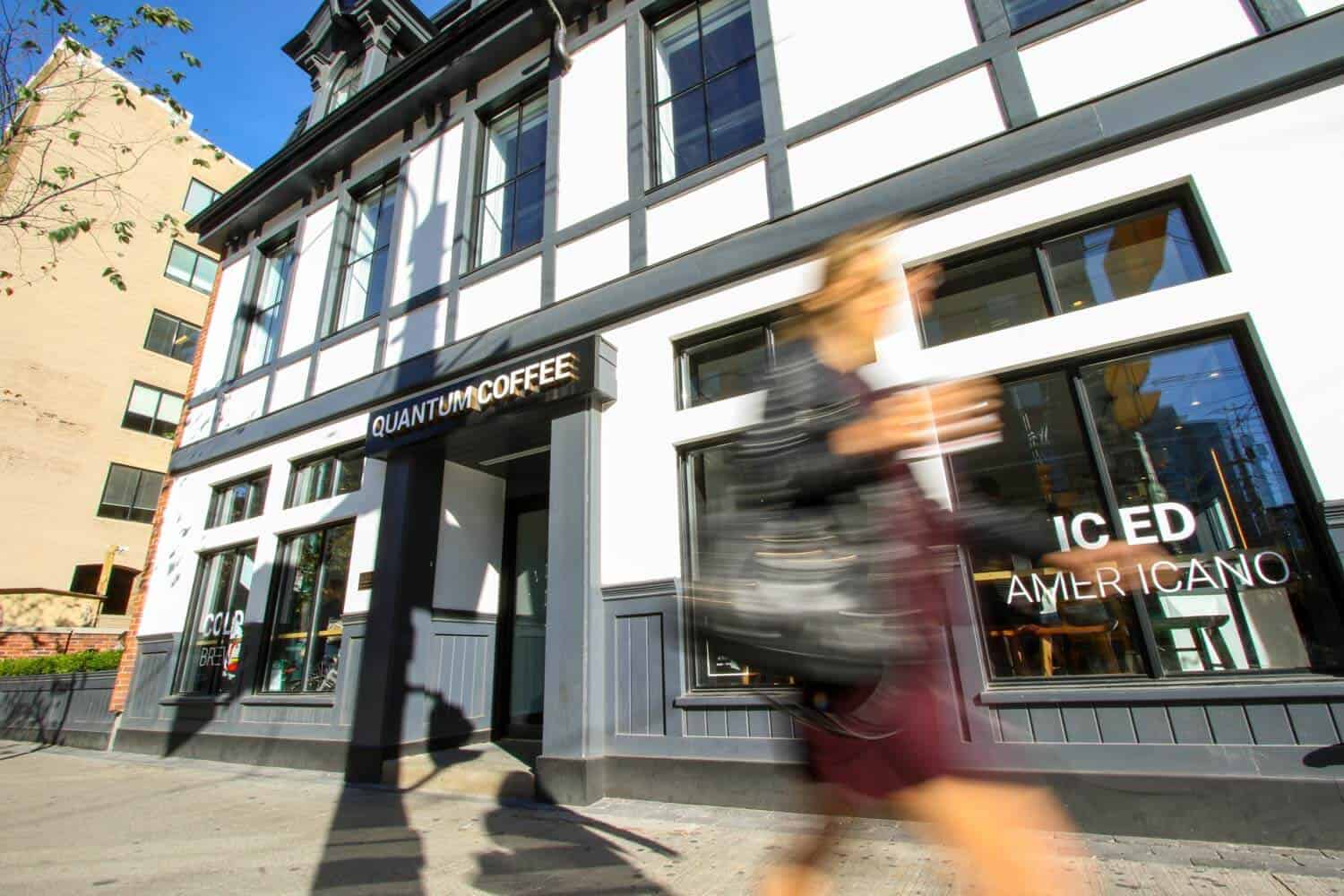 Image: King Street Entrance of Quantum Coffee and co-working space, Toronto Campus
On the main floor is the company owned, Quantum Coffee shop and large co-working space that doubles as a training space when required. I visited twice in the course of a week and both times all of the tables were full of people on laptops, talking with friends or co-workers. From the King Street Entrance, once you climb the stairs, you can see the Toronto offices of Shopify and Shopify's rooftop patio.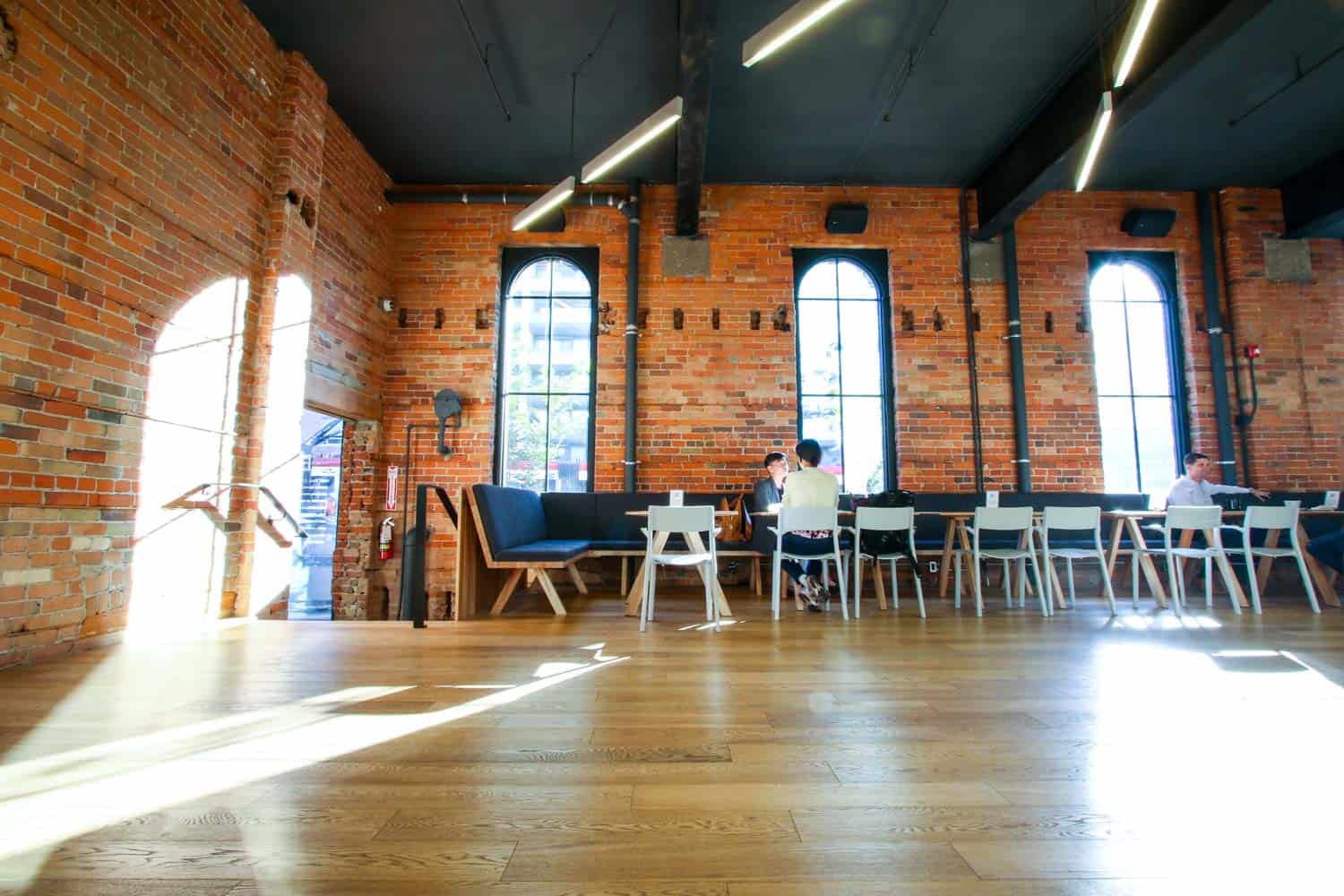 Image:  Interior Co-working space, Quantum Coffee, Toronto Campus
Getting Hired at BrainStation
Every hire, whether Staff or Educator, goes through BrainStation's website application process. Everyone I interviewed assured me of this one thing! Jason Field, Founder & CEO, says 'We look for people who are passionate about the brand. We consider things like whether you have been a part of the BrainStation community hub in any way by participating in a workshop, course or networking event. Do you understand what we are trying to do? When we first started out, we had people teaching on a volunteer basis. That passion means something. Today, that volunteer could be one of our Educators."
Johnny Yoo, Manager Growth at BrainStation, started off as an intern 18 months ago.  He originally met the Hiring Manager at Starbucks where he was working but was already attending classes at BrainStation. Having launched a start-up of his own (Yuhu.io), an app for the property management business, he was looking for a new challenge. Says Johnny, 'I started off as a marketing intern and worked my butt off for three months. I did everything; Social Media, Event Planning, PR, execution. After three months, I was offered the job of Marketing Coordinator. The greatest part about BrainStation is that there is no ceiling. There is so much opportunity here."
Trilby Goouch is the Manager, Marketing. She is an Economics grad from Queens University.  She started off interning at the Konrad Group in the fall of 2014 for three months. "That was around the same time the Konrad Group was acquiring BrainStation.  I was presented with the opportunity to join BrainStation and was one of the first employees. In 2015, I was promoted to Marketing Manager."
Nicola Lochead is Manager, Delivery, responsible for curriculum content, among other things. "There are so many ways to get involved in the BrainStation community; Mentorship opportunities, leading teams, being a part of our professional development programs."
Jason says that people with no digital or start up experience make the best hires. "They have no expectations of how things should be done so they are open to change and can pivot quickly. Our business is constantly changing.  Johnny is in Vancouver right now for three weeks to help there. He'll be back in Toronto after that and will work on something else. That's what's need; we have to go with the flow."
BrainStation does on-campus recruiting at University of Waterloo and Western. They also participate in HackerNest job fairs and Techfest. Staff also meet many people through the community they have created and at the co-working space at their hub. But everyone who wants to work at BrainStation or become an BrainStation Educator for them completes the online application!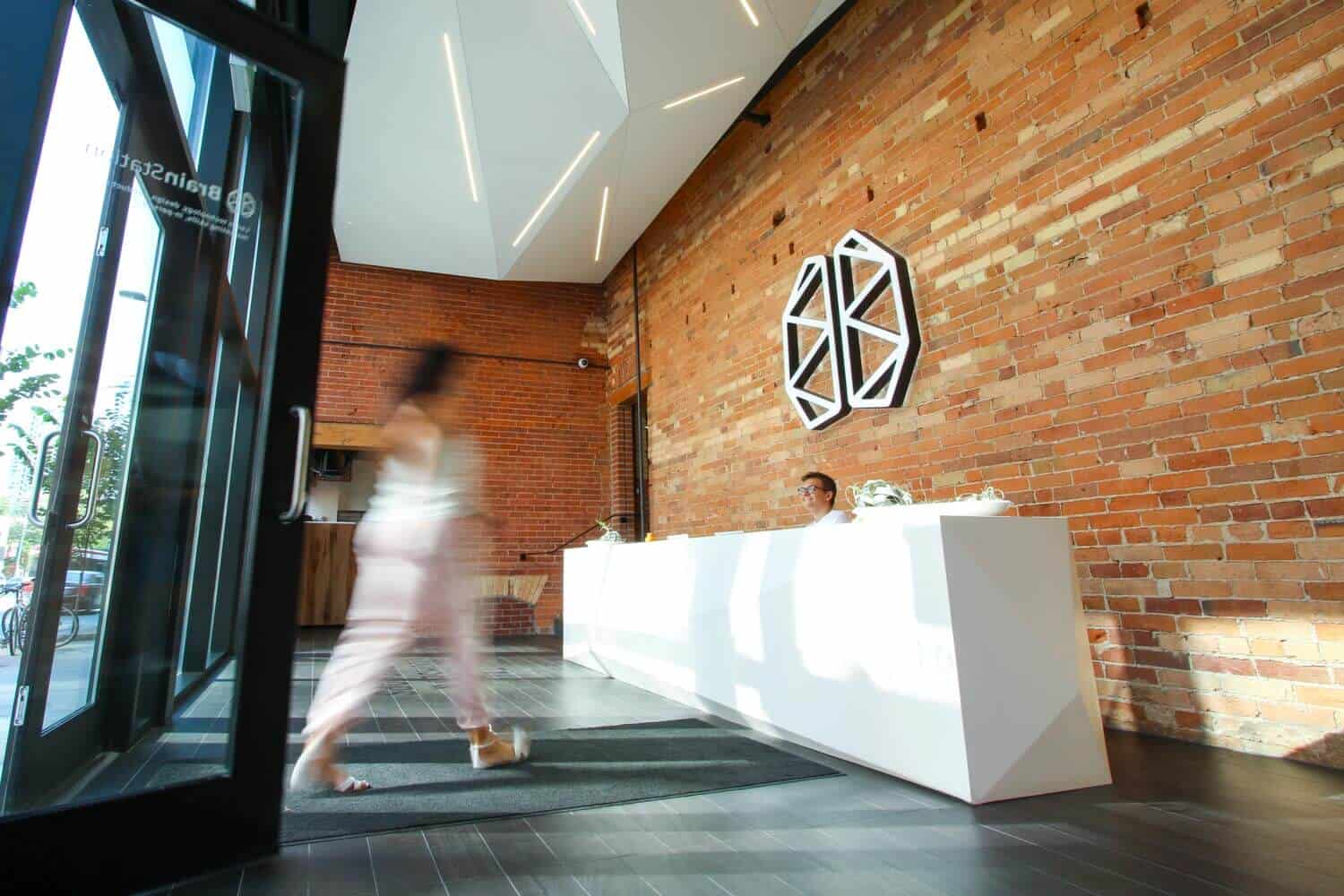 Image:  BrainStation Reception, Toronto Campus
The Onboarding Process
New hires at BrainStation start off with one month of cross-training in all areas of the business. Says Johnny, "Everyone does onboarding." This includes working at the Campus Support Centre, being a Campus Co-ordinator, being in frontline Customer Service either on the phone or through their in-app chat and going through Product training. "After a month, you have a holistic understanding of each other's work. Then you start the job you were hired for."
Educators are hired for their passion. They come from all walks of Toronto's technology industry—staff at Scotiabank Digital, Shopify, Loblaw Digital, and FreshBooks to name a few. They have no formal teaching experience but are interested in learning. Says Jason, "We tell our Educators to teach our students as if they were training a new hire.  We want the Educators to get the full-time BrainStation students ready and self-sufficient in three months. We build projects with the students in a hands-on manner. We are not like Ryerson or the University of Toronto. These are not teachers who have come from academia. These are passionate people who come from the industry."
In fact, BrainStation's Educators are one of their key differentiators. Being in the industry informs their curricula planning; they can see the trends emerging in terms of what will be needed from a digital education standpoint and can work with Nicola to get the course curriculum designed. Says Nicola, "We look at trends, roles popping up that are not being filled and work with our in-field Educators to develop a base curriculum."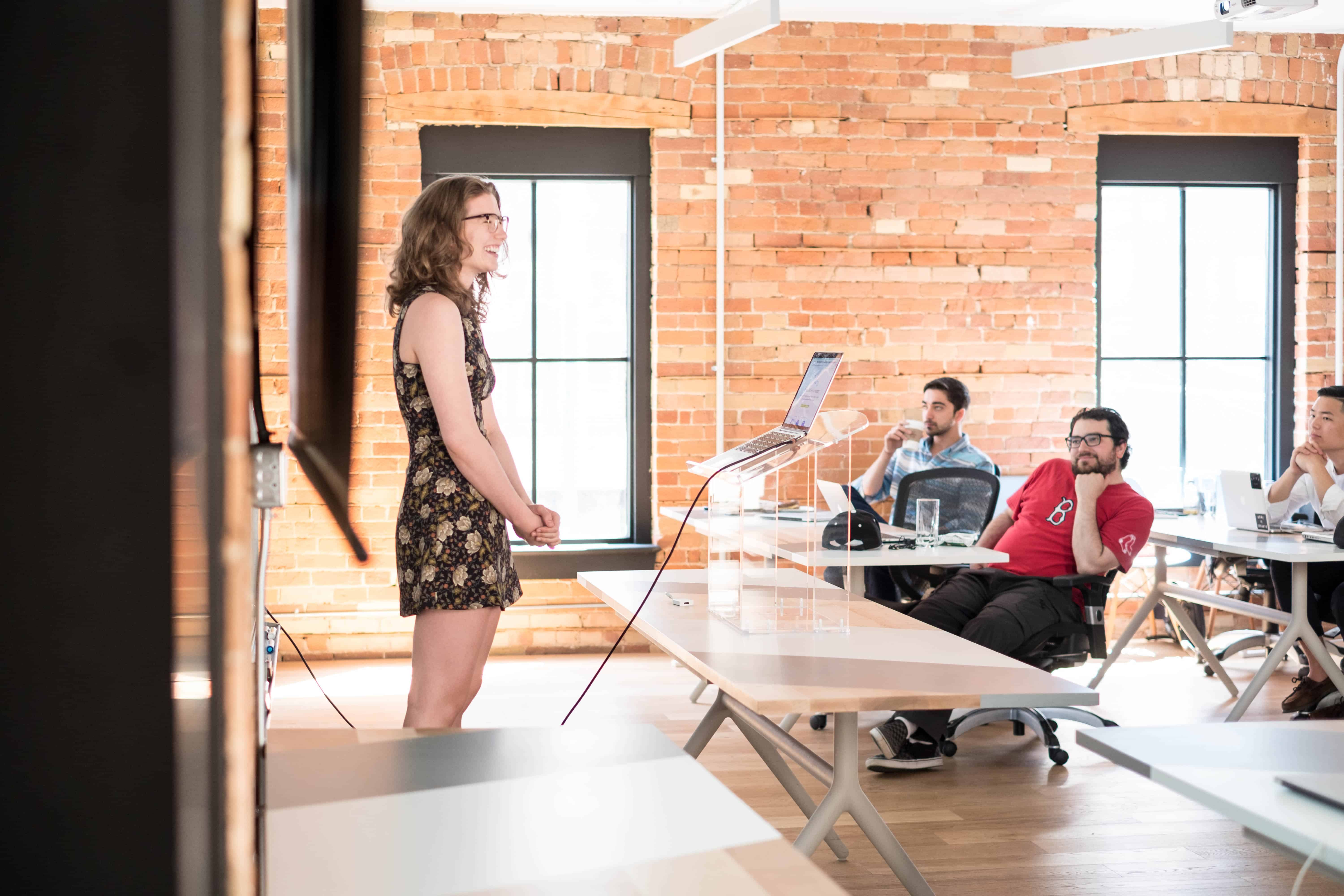 Image: Industry staff are Educators at BrainStation, Toronto Campus
Jason tells me "by 2020, the estimate is that 220,000 Canadian jobs will go unserved because of a lack of digital education. Shopify team members and other top developers in the industry work together with BrainStation to co-create curriculum.
Says Trilby, "At the beginning, you learn on the job. We have a work hard and play hard mentality." 
Staff say access to BrainStation's courses are a real perk. Says Nicola, "When I started as an intern, I also got to take free courses at BrainStation. It was the perfect opportunity. I had graduated with a Degree in Media Information and Technoculture at Western, but felt as though I was lacking a practical understanding of the digital landscape." In fact, the ability to participate in BrainStation courses was seen as an excellent way to ramp up and learn about what BrainStation is all about and a great way to stay up to speed on the latest and greatest with digital.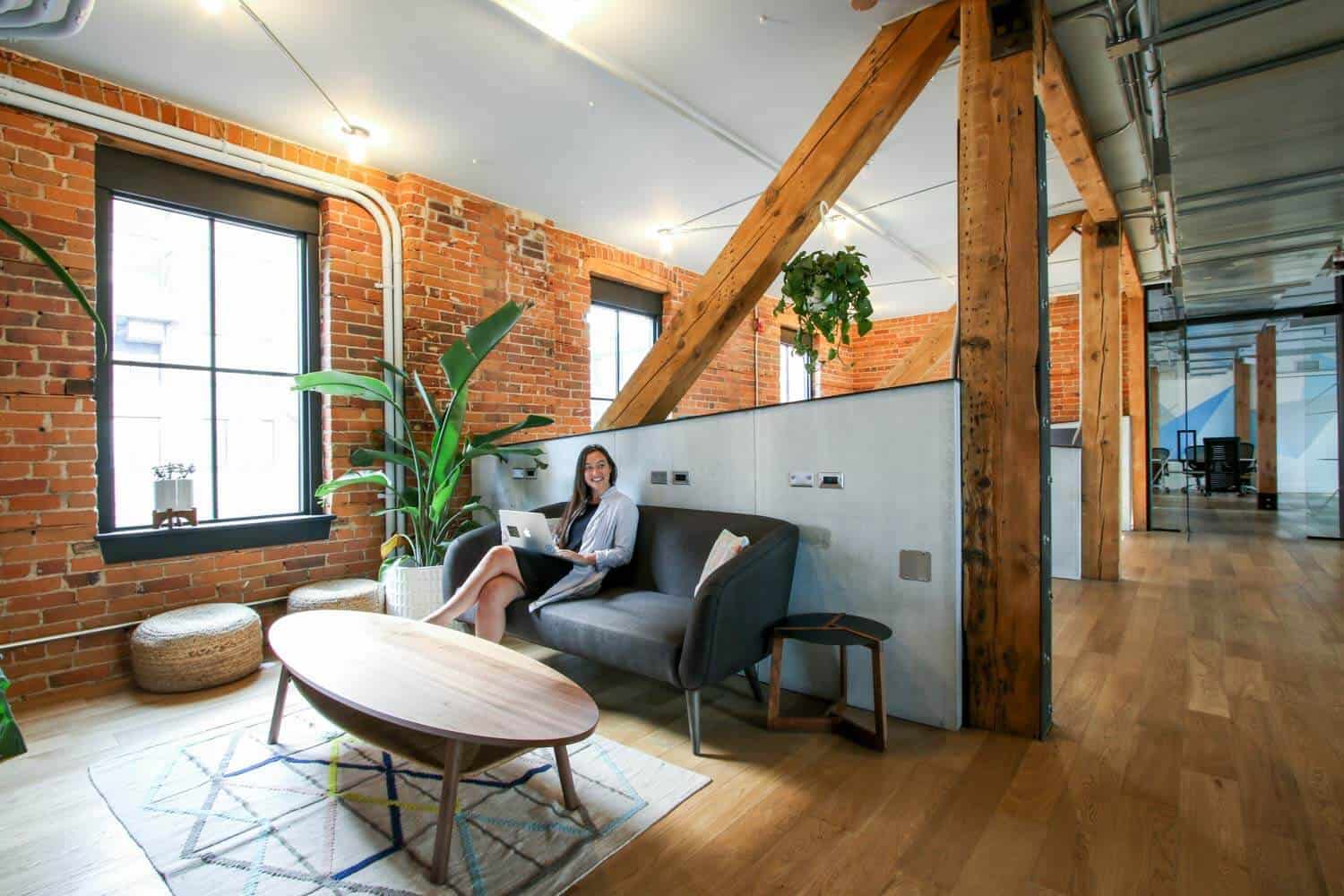 Image:  Staff Workspaces, Toronto Campus
Creating a Team
Unlimited opportunity for career growth is a recurring theme with BrainStation employees. The sky's the limit. Another theme is a passion for the work they are doing.
Says Trilby, 'We empower a ton of people every day. That's inspiring. I'm driven by data.  I can see the results of my work in terms of people who sign up for courses or workshops. What I do is super rewarding. I love going to work. When the Admissions Team was swamped, we all got on the phone to help them. I have learned to pivot quickly with what I do; I can't be in control all of the time." 
Trilby also tells me that the staff at BrainStation do a lot of social activities together.  They are friends inside and outside of work.
Johnny worked on the new Event Series. "I wanted to own it, run it." It was the most significant thing I worked on." He says he was also was able to work on BrainStation's in-app chat and define the strategy from start to finish.
The fun stuff for BrainStation staff includes annual retreats, bike and wine tours, ski trips, monthly socials, sweat sessions where everyone works out together, weekly breakfasts on Monday mornings and catered lunch on Fridays.
Says Johnny, "I like every single person I work with. We like hanging out with each other."
Jason, Founder and CEO, tells me that it was intimidating starting out with little digital knowledge and wanting the industry's best to help him teach the courses. "But the people I spoke with saw the need and wished that what we were trying to do with BrainStation was there when they were learning. So they were onboard with the whole idea."
I ask Jason about the satisfaction of giving students of all ages confidence in their digital knowledge. What's it like, I ask, to know you have given them something that will positively change their lives? "That feeling at the end of a course, knowing that a student is self-empowered and that we have changed their lives… It's everything."