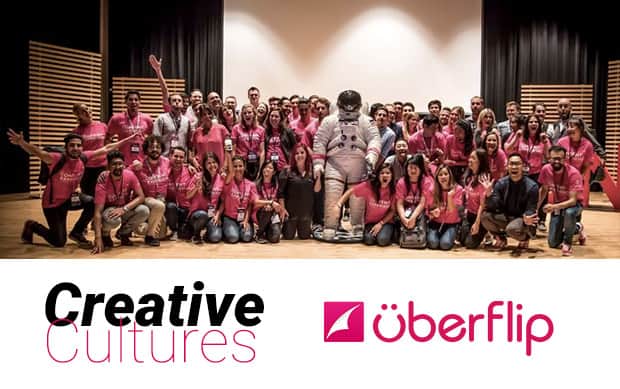 In our Creative Cultures series, writer Isabel Chalmers spends a day inside companies to learn how hiring, onboarding, and company culture play a role in employee happiness. From start-ups to design firms and all in-between, we're pulling back the curtain on what it's like to work in inventive and productive environments. Today, Isabel is at Uberflip in Toronto.
Uberflip helps businesses create remarkable content experiences, and to no surprise, hires remarkable people to do the work. Walking up to Uberflip's vibrant open-concept office, located in the heart of Liberty Village, I can hear laughter from the hallway, and as I wait for my interview, I'm greeted by everyone who walks by (and even offered candy). One thing is clear, Uberflip is anything but a boring place to work.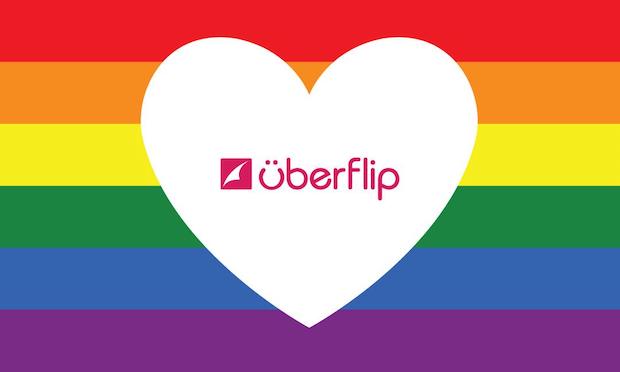 Giving Back
Uberflip believes in giving back to their community and officially launched their 'Give Back' initiative in 2016. "We donate 1% of new revenue to charity each year," Julie Whish, Culture Specialist at Uberflip tells me. "Every year we ask our staff what charities and causes they're passionate about," Julie explains, "and then we take part in those, however we can." This year Uberflip raised over $20,000 dollars for SickKids through multiple events and promotions run by volunteer staff. Where the team don't give money, they give time, like volunteering at Ronald McDonald House or participating in Road Hockey to Conquer Cancer.

Core Values
Uberflip is built on six Core Values: Hustle, Culture, Communicate, Experiences, Consistency, and Give. "We definitely lean on our Core Values as a guidance when hiring people," Emma Koza, Front-End Web Developer & onBrand Team Lead at Uberflip, tells me. "They allow us to define some of the core traits that everyone who works here exemplifies."
"Culture is the number one focus here," Julie tells me, and after taking a tour around the office, it's obvious how much effort they invest into it. The office bustling with conversation, laughter and smiling faces. "We want people to feel like they belong and can contribute," Emma explains. "So as much as it's important to have skills, it's integral that they have a thirst to learn more and the ability to take initiative." Uberflip is a place of ideation and creation, where, as Julie tells me, "we're always implementing new initiatives and striving to be more inclusive. A lot of that comes from the staff's recommendations."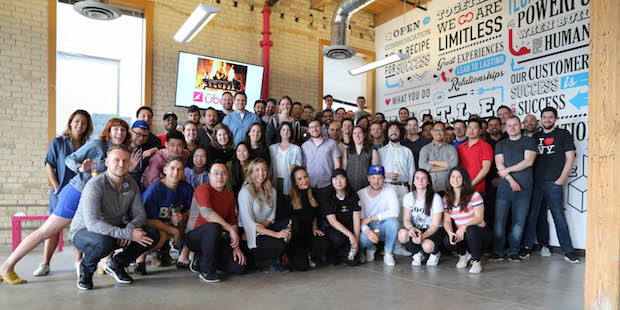 Fireside
"We have Fireside every Friday in the club," Julie tells me. The Club sits right in the middle of Uberflip's office and is decked out with ping pong tables, snacks, toys and a beer fridge for later nights spent at the office. Fireside has been a tradition from the beginning of Uberflip. "It acts as a way for us to connect at the end of the week and recognize each other for good work and teamsmanship," Julie explains. Every Fireside includes 'Shoutouts' to a job well done, which are submitted throughout the week to managers. "It's basically a props to good work and attitude," Emma tells me.
'Corie' trophies are given out quarterly to staff who exemplify Uberflip's core values. Of course, Fireside is also a time to celebrate the week, so food, drinks and music are always to be expected.
Team Bug Crush
"We wanted to make it easier for team members to reach out to each other and ask for help," Emma, the coder behind the Team Bug Crush initiative tells me. Team members can post questions and challenges in the slack channel for the team to help them on. "We go into a room with a whiteboard as a team and tackle it together," Emma explains, "it may seem like overkill but it's better to take an hour as a team to solve an issue together than to have someone sit on it and stress alone for the day."
Uberflip is all about open communication and teamwork, where managers and team leads sit with their teams at open concept desks. "We want people to feel supported and create a safe place for people to come to work every day," Julie tells me. New team members are assigned 'buddies' who show them around the office, take them for lunch and answer any questions they might have about the space, people or work. "It's such a good program," Emma tells me, "I made such good friends with my buddy, we ended up going on vacation together."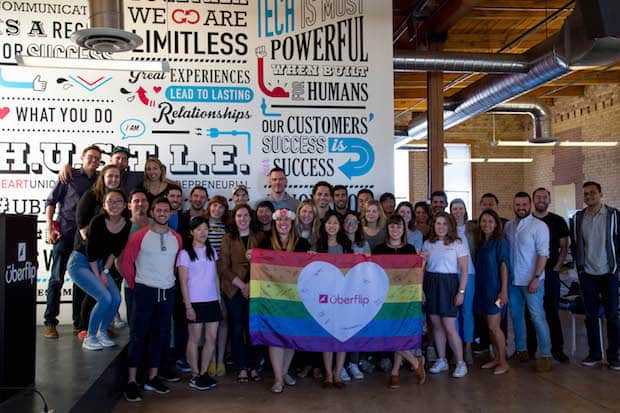 Uberflip is passionate, for their work, for their community, and for their employees, and after spending time in their office, it's clear their enthusiasm is sincere. They want to do good work as much as they want to be good people, and so far, it's working.