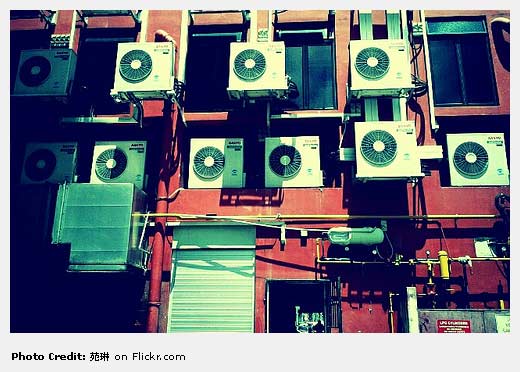 Networkers are continually making strides to differentiate their business cards. Everything from content (QR codes), to design (odd shapes, cut-outs, folds), to material (plastic, wood, fabric) has been manipulated to make one person's card stand out from another's.
But what if you're someone like me that's looking for a job? I don't own a nice printer nor do I want to spend a lot of money on fancy cards. Another option is to order business cards online.
One company is even offering "free" business cards as long as you pay for shipping, which still costs less than ordering cards from a big box retailer. The drawback is you have to choose from a set of design templates.
While some may see limitations, I actually see an opportunity to get creative. Forego the standard designs and choose something with a seemingly irrelevant design and MAKE IT relevant. For example, one design features an air conditioner on the card and is probably intended for someone in air conditioning sales and service.
I'm searching for career opportunities in marketing. So, I made this design relevant to me and my goals by adding the phrase "need marketing help? Contact me! I create cool." right beside the picture of the air conditioner. See the card at http://bit.ly/ffq8ZO
It can be risky, but in marketing, risk wins. This is the way to stand out and differentiate yourself in a crowded job market. This is the way to be top of mind when that person you networked with looks at the big pile of cards and decides to call you first.
John Paul de Silva is an MBA graduate seeking career opportunities in non-profit marketing while volunteering as a consultant for a Toronto non-profit. When not working on the 4P's, he can be found at the gym, pool hall, rap record store, foodie place…or one day, a magical place with all those things rolled into one location. Follow him @jp9desilva