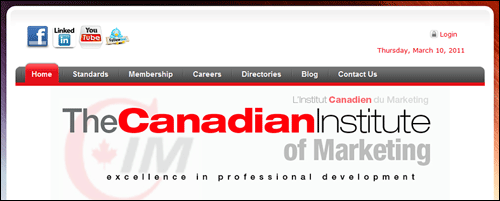 We have another round of good news over here at FreshGigs.ca!
On the quest to get the word out and offer more and more of the best Canadian marketing and creative jobs we have now teamed up with the Canadian Institute of Marketing to offer job listings and posting abilities on their website.
About Canadian Institute of Marketing
The Canadian Institute of Marketing is an organization of professional marketers whose credentials are based upon a strong and lengthy period of education in marketing, and/or business management with marketing responsibilities. Full members hold several years of experience as marketers at a senior level (with marketing staff supervision responsibilities), or corporate strategic and/or tactical marketing planning positions. The Institute was established in 1982 on the organizational structure, membership requirements and standards of the Chartered Institute of Marketing, UK. Based in Canada, the Institute has a global focus and welcomes membership applications from marketers residing in other countries.