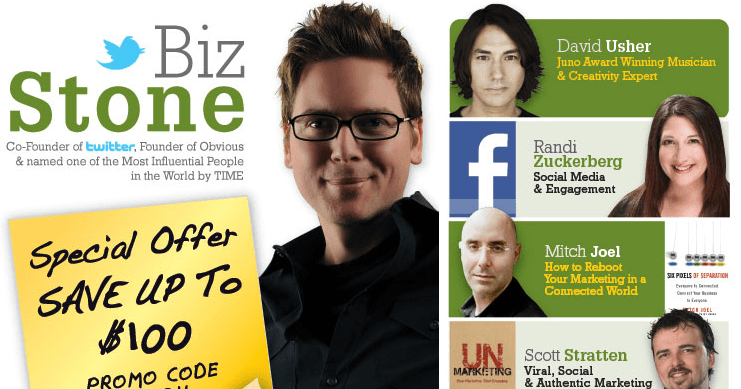 If you've ever attended a good conference you know there's something in the air that allows you to walk away from the event feeling inspired, motivated and filled with ideas and new to-do's to implement…that simply reading a book or blog can't match.
And key to a great conference is having an exceptional lineup of speakers willing to open up and share their battle-tested and proven strategies, insight into new trends and best-practices.
Enter The Art of Marketing Conference.
Date and Venue
On November 27, 2012 from 9am-4:30pm the Convention Centre in Coal Harbour in Vancouver will be host to this event.
Speakers
Biz Stone – Co-founder of Twitter
Randi Zuckerberg – Former Head of Marketing at Facebook
David Usher – Juno Award Winning Musician & Creativity Expert
Scott Stratten – Author and President of Un-Marketing
Mitch Joel – Author of Six Pixels of Separation and President of Twist Image
Ticket Giveaway
We have one complimentary ticket to give away (retail value $399). For a chance to win, just head on over to the FreshGigs.ca Google+ contest post and tell us: "Why you want to win the ticket to this event and what you hope to learn at it?"
Enter to win here.
We will announce the winner on November 16th, 2012.
Update: Congratulations to Carrie Serwetnyk who won the ticket to this event.
Save up to $100 Off Your Registration
Even without entering the contest you can save up to $100 off the regular price of the conference. Just use the special link below for a full agenda of the event and to register:
Conference and Registration details page here.