From the top to the bottom of any organization's hierarchy and scattered throughout the value chain is the ubiquitous Account Manager. They're found in industries such as fast food to high tech, advertising, banking, and everything in between…but why? What exactly is an account manager? What do they do? How does one become an account manager? What skills are most needed? What do they earn? And what do account managers do after they've been promoted from…Account Manager-ing?
Simply put, an account manager is a liaison between a company and its customers.
Simple answer, less simple actuality. They're essentially the face of the company, a salesperson through and through. Part big-picture client manager, part consummate people person. In broad strokes, the account manager's mandate is to acquire new business and maintain old business.
The ability to listen – to discern what a client needs, and then fulfill that need – is a highly sought-after and invaluable skill.
There are endless incarnations of the account manager. They may manage external leads and pursue sales. They may also assist current clients and work on giving them the value they need. The role may also entail industry-specific tasks. For example, in a creative industry, like advertising or web design, account managers must balance – and sometimes push – the creative team to output, while keeping the client informed and on board.
The skill Trifecta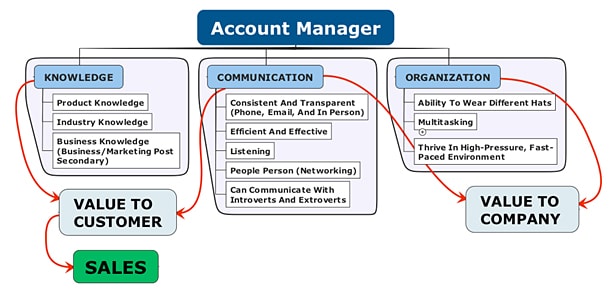 Communication
The account manager's most fundamental job is to communicate. They communicate daily with clients, creative, and various managers and stakeholders within a company.
"The business of an account manager is more than just sales. Their business is customer relationship management. Account manager's are successful if they are good at networking, and building and sustaining relationships. Their business and potential to make money depends on how well they manage in those areas."
– Tania C. HR professional.
Driving and building relationships is the crux of communication. Whether working wit outbound leads or established customers, account managers are constantly building relationships, providing value, and above all, listening. And while it seems as though most of their day is spent talking, the ability to listen – to discern what a client needs, and then fulfill that need – is a highly sought-after and invaluable aspect of communication.
Knowledge
As important as it is to be a specialist in today's business landscape, the account manager needs to have exposure to a wide variety of situations and industries. Bridging different worlds is very important, as the benefits of a stronger network can't be overstated.
Knowledge is a fundamental value proposition that drives sales and strong client relationships. The account manager is the go-between, but also a person of knowledge. And that knowledge is called upon all day, every day. Therefore, it is absolutely crucial to have in-depth knowledge of a company and its products, as well as its respective idustry.
Organization
Since the account manager is the bridge between the client and the company, they must be sufficiently organized to handle requests from both sides simultaneously. A typical day for an account manager involves putting together sales proposals for clients, communicating with their team and handling client complaints, concerns, and feedback. They manage their sales pipeline, make calls and take meetings. And don't forget about selling. Presentations and pitches are the crux of this job.
It is a very active position and without proper organization skills, there is no success.
The Payoff
The account manager typically earns both salary and commission. Commission rates vary widely between industries, but an entry-level account manager can expect to earn a salary between approximately $35-45K. The average base salary for an Account Manager with Business Development skills in Toronto is estimated between C$55,695 to C$74,509.
For experienced account managers, compensation is even more varied. A strong account manager in a high-ticket industry can earn a healthy six-figure income from making only a few sales a year. Commission generally takes the form of a percentage of each sale; and quarterly or even year-end bonuses contingent on performance are not unusual. Some companies may even offer a salary for the first six months to new hires before moving to a 100 per cent commission-based compensation. It really depends on industry and the various commission schedules available, but top producing account managers are always in demand and the sky really is the limit.
To infinity…and beyond.
Ready to hire an Account Manager? Post a job with Canada's top marketing and creative job board now.
Sources:
www.payscale.com – find out compensation ranges in your industry.
www.linkedin.com – there are several groups devoted to the topic of account management.
www.indeed.com/forum/job/account-manager.html – a good forum with discussions from aspiring and current account managers.
---