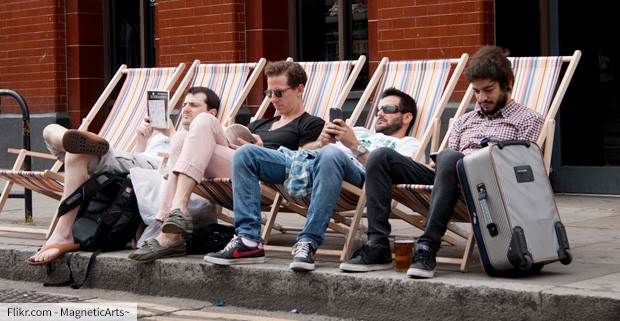 It's an exciting time to get getting into marketing, advertising and communications. The experiences that marketers and advertisers can deliver to consumers, customers and clients are unlike anything before thanks to evolving technology and innovative delivery platforms, like social media.
"It is a period of rapid change and constant evolution unlike any the industry has ever experienced," says Thomas Kenny, strategic planner at Leo Burnett and author of Six Marketing Trends to Watch.  As such, it has never been more important for those seeking marketing careers to stay on top of emerging trends in the field.
Consumers are different. They no longer just want a product that functions. They want an emotional connection.
Here are a few that Kenney suggests to keep your eye on in 2014.
Keeping it Old School
Several ad films, such as Dodge's Ron Burgundy shorts, were great examples that traditional media is still very effective. "Despite all the new tools of the trade available to advertisers, one of the most traditional media is still amongst the most effective. People still like to sit back and be told a great story," Kenny relates.
But Not that Old School
Mobile devices continue to be an up and coming trend, even though many marketers and advertisers still don't give them much thought.  But they should. According to an eMarketer study, the average adult in the U.S. spends almost 2.5 hours on their mobile device. That is up by almost an hour from the prior year.
"This is the real deal. For advertisers this means no more sites that aren't optimized for mobile, no more desktop only experiences (ahem, Facebook apps and custom YouTube channels), and more content that looks just as good on a much smaller screen (see points one, two and three)," Kenney adds.
Social Media gets Right-Sized
How many of us started out on Facebook (and other sites) gung-ho — commenting, liking everything and overall being social media all-stars? But, eventually, the excitement wore off and we went back to … well … real life. This is happening with consumers in the marketing world and advertising, as well. 2014 might see consumer involvement on a social media level being dramatically scaled back — maybe asking for no more than a like or a follow, rather than an all-out social media marriage.
Sequential Messaging
Find 'em and follow 'em. The idea is to track consumers across devices and continue a brand experience from one device to the next. The technology is mostly in early stages. As of December 2013, Microsoft has installed ID software in one of its devices, according to This is Advertising's Next Great Leap Forward. But, the results of sequential messaging shows results.
"The data shows it works," says Paul Dolan, SVP of global business development at Xaxis. "When you reach someone with a digital video message, then follow that up with a display ad to reach them on a PC and reach them again on mobile … equals three types of results."
Mean Something to the Consumer
Consumers are different. They no longer just want a product that functions. They want an emotional connection. They want a great story and something that will make their life easier. This year will see more brands and agencies embracing this communication strategy, which can be a game changer if done right, relates Kenney.
"Having a brand purpose that extends beyond function can create an emotional connection to your brand that will set you apart. Furthermore, as content marketing becomes the norm, having a brand that stands for more than just the product opens the door to much more interesting content with the potential for creating meaningful consumer connections."