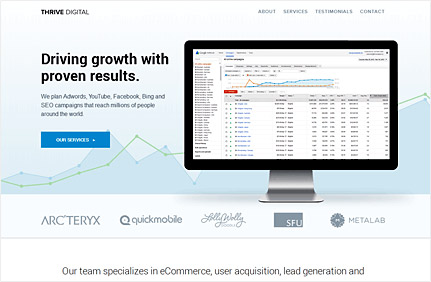 Background
Thrive Digital is a digital marketing agency that specializes in brand visibility, user acquisition, ecommerce and lead generation campaigns using Google, Facebook and YouTube. Its clients include Lululemon, QuickMobile, Uber, WhistlerBlackcomb, Metalab, SFU and Ritz-Carlton.
Established in 2011 Thrive Digital partners with its clients to deliver both strategy and execution, focusing on ROI, to ensure business goals are met.
Challenge
Thrive has experienced significant growth in the marketplace. To manage client accounts and continue to provide the results and service its clients have come to expect, Becker knew it was time to expand the agency's team.
Before posting on FreshGigs.ca, Thrive posted its jobs on Craigslist, Kijiji and social media sites. "The response was slow and the quality of the applicants was really low," said Becker. Rather than wait to get more candidates and be left with an inbox full of unqualified applicants, Thrive decided to change its approach.
Solution
"I've been hearing more and more professionals and employers talk about FreshGigs.ca. We decided to post with them and once we did, we got a steady stream of quality candidates, had several interviews, and made a great hire!" Asked if he'd recommend FreshGigs.ca to other employers, Becker said "it's a great service, I definitely would."
Get qualified candidates fast.
Post your job on FreshGigs.ca today
Post Job Now