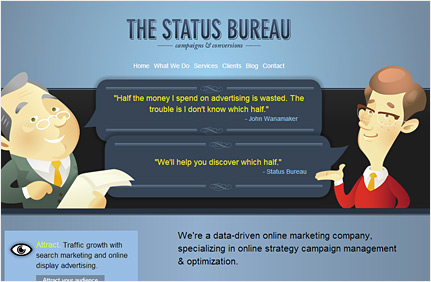 Background
The Status Bureau is a data-driven online marketing company specializing in online strategy, campaign management and optimization that serves clients like Pizza Pizza, Athabasca University, the Province of Alberta, and the City of Surrey. The Status Bureau helps its clients increase traffic growth with search marketing and online display advertising, engage and connect with the right customer and increase conversion rates.
Challenge
To service its growing client base The Status Bureau needed to hire a Search Marketing Expert. The company posted its job opening on several websites, yet was unable to find a qualified candidate for the position.
Josh Loewen, Co-Founder at The Status Bureau said: "We posted our job on LinkedIn, because that's where you're supposed to advertise. We received too many unqualified people and too much nonsense. And it was too generic. We tried Craigslist because it's popular and got a lot of unqualified people. Too many people living overseas even though I stated we needed someone local. It was extremely generic traffic. We also posted on a local tech blog because it's very well known, though we got nothing at all."
Solution
With the position still unfilled The Status Bureau continued their search and found out about FreshGigs.ca. They decided to post their job and within 10 days had received qualified candidates and later hired one of them to fill the position. "FreshGigs.ca is very focused and was exactly what I needed. I got great applicants and got an overqualified guy that I hope I can keep!" said Loewen.
Get qualified candidates fast.
Post your job on FreshGigs.ca today
Post Job Now