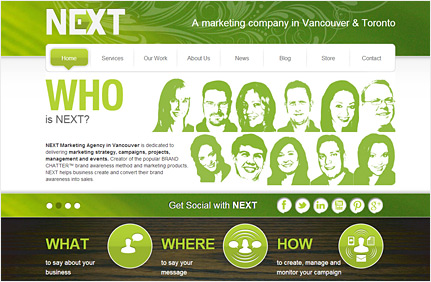 Background
NEXT, a marketing agency in Vancouver and Toronto, helps businesses worldwide create brand awareness, focus their messaging and deliver results. Created from a mother's bedroom, NEXT has become one of BIV's Top 100 Fastest Growing Companies. The agency's clients come from all sectors and include TD Canada Trust, nGrain, Appleton Estate Jamaica Rum Canada, and HSBC to name a few.
Sandy Gerber, NEXT's CEO, describes the agency's culture as "family first." "We're a growing family that supports a culture of leaders. Leadership is the #1 quality we're looking for" said Gerber. The NEXT culture is about having fun and wanting to make progress quickly.
Challenge
A fast growing company NEXT was looking for a strategic hire to grow its marketing team. "The current options for finding qualified marketing and creative people aren't good" said Gerber.
Solution
NEXT decided to post its job on FreshGigs.ca. "We got really qualified people and had peace of mind knowing that the candidates were real marketing people," Gerber said. "FreshGigs.ca is an amazing platform for finding people with a relevant skill set. The site is easy to use, the service is friendly and the whole experience was awesome. Hiring is usually unpleasant, FreshGigs.ca made hiring easy."
Get qualified candidates fast.
Post your job on FreshGigs.ca today
Post Job Now