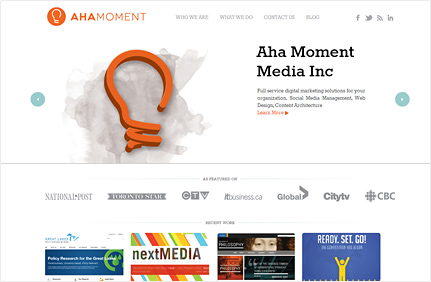 Background
Aha Moment Media specializes in social media, content development, and digital marketing. Its clients include Royal Bank of Canada, Ryerson University and Banff World Media Festival, among many others.
The company's culture is centered on energy, enthusiasm, vision and drive. And because working in a startup environment can include long hours and tight turnaround times, Aha Moment staff must have an appreciation of the startup culture. This can make hiring a challenge, says Aha Moment Founder, Amanda Parker.
Challenge
To service its growing client base Aha Moment required additional staff with marketing and copywriting expertise. "I didn't want to get overloaded with responses from unqualified candidates and needed the price of the job posting to be reasonable as we're still a startup." said Parker.
Solution
Aha Moment decided to post their job on FreshGigs.ca. Parker had this to say about her experience, "I hired two people from the first job I posted on FreshGigs.ca. The site was easy to use and I got responses right away. I'm always happy to recommend the site to others." Aha Moment continues to post their jobs on FreshGigs.ca"
Get qualified candidates fast.
Post your job on FreshGigs.ca today
Post Job Now