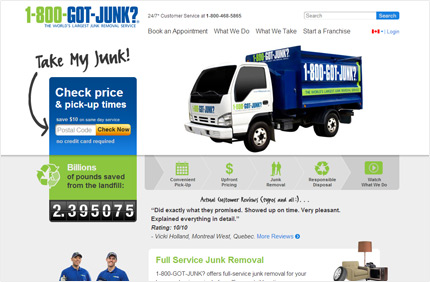 Background
In 1989 Brian Scudamore started what would later become 1-800-GOT-JUNK? with one junk-hauling truck and a great deal of ambition. Today 1-800-GOT-JUNK? is the world's largest junk removal service with over 175 locations in three countries. The company has become a true Canadian success story and now expanded by establishing two new brands, WOW 1Day! Painting and You Move Me moving service.
Over the years the 1-800-GOT-JUNK? has developed a "unique, transparent and collaborative" culture, according to Sarah Letain, the company's HR Generalist. Each morning the company gets together in teams to conduct the morning huddle, where employees review and update each other on the company's progress and plans. The huddle ends with a cheer that gets everyone pumped up and ready for the day.
Challenge
As 1-800-GOT-JUNK? continued building its team it encountered a common challenge. "Finding the right person, especially in the more creative roles can be tough. Our goal for hiring was to find someone that knows their stuff and has the right skills, but also would be the right fit for our culture," said Letain.
Solution
1-800-GOT-JUNK? decided to post its marketing and creative roles on FreshGigs.ca. "We liked that our jobs would get in front of a captive audience and the right kinds of people. It was a very positive experience. We got many responses and traffic from FreshGigs.ca, even compared to larger general sites. Plus, we made a great hire as a result."
Get qualified candidates fast.
Post your job on FreshGigs.ca today
Post Job Now